Cross-Channel Storytelling
When a brand has a story to tell and runs a campaign, it means nothing if their customers aren't aware that it's happening. Obviously the marketing team works hard to drive awareness and get customers to engage with content and then visit the website with the intent of making a purchase. This is done by reaching customers on the platforms they're already using, whether it is email, social media, or browsing the web and viewing ads. One of the overlooked resources is the authentic word of mouth from a friend who is pleased with the experience they just had. It's important for a brand to not only reach customers where they currently are, but to think about how their social networks might also be able to reach them either online or in person. Having a strong brand voice and showing this across channels helps build the relationships that grow the business.

When creating content across multiple channels, it's important to think about the user behaviors on specific platforms. Do users on a social media channel like to look mostly at photos, or are they likely to read a lengthy text-heavy post? Are they posting comments? Are they conversing with the brand or with other customers? Will they read an email daily, or once a week? What device do most of your users view your content, and how long do they spend looking at ht? Thinking about these behaviors helps us understand the types of stories to tell in order to build relationships with customers, keeping them engaged with the brand so when they're feeling ready to make a purchase, they not only think of the brand first, but also feel confident that they can trust who they're purchasing from.

One challenging part of creating a campaign across multiple channels is having assets that work for all the different aspect ratios and specific content rules of each platform. When evaluating which assets to use, it's important to think about consistency across channels, picking photos and planning layouts that will be most easily scalable or will have the desired impact for specific channel needs. In order to make the process go faster, once you've created a system of how the story is told and how assets are displayed across channels, it goes much faster the second time around. Trying out templates and evaluating their performance metrics can help you understand what works best, and how to make the process go faster the next time around.
Case Study: Efficiently Creating a New Campaign Page Experience at Rothy's
My Role: Direction, Designer (Web Design)
Marketing Designer: Ashlee Rice
Social Media Manager: Lacey Young
Rothy's had done small partner collaborations with brands in the past, but they had never done a large campaign on their site, so this was new territory. The campaign was a partnership with Breast Cancer Prevention Partners, where the proceeds of all Rothy's pink shoes sold would be donated to the non-profit. I needed to figure out how to integrate the campaign into the e-commerce website, bringing awareness to customers who landed organically on the site as well as customers who landed via marketing communications. I was going to create a new landing page to fully describe what the campaign was about, and dove right in with the intention of making a new template that could be reused down the road.
I was given minimal content to work with, and knew I needed to dig deeper to create something meaningful. I looked at the partner's website, really trying to understand their efforts and the passion behind why they do what they do. I read their About pages, bios of their employees, press releases, and watched videos of their employees and partners speaking from the heart. I took copious notes, capturing details that I thought would resonate with our customers.
When it came to planning, I plotted out the placements available, and thought about what could be built once with minimal effort and reused later in future campaigns—a simple banner swap at the top of the site header, adding a new banner into the body of the Homepage appearing in a place that did not hinder the other purposes of the page, special call-outs on the promoted shoes, and of course a landing page where customers could get all the details.
Simple pink placements added throughout the website to promote the campaign...
When I started designing the landing page I looked at what currently existed, knowing this would save engineering time to re-use modules. I was able to pull from the newly redesigned Homepage knowing those new styles would be continued, and a new landing page that had been coded but hadn't yet launched.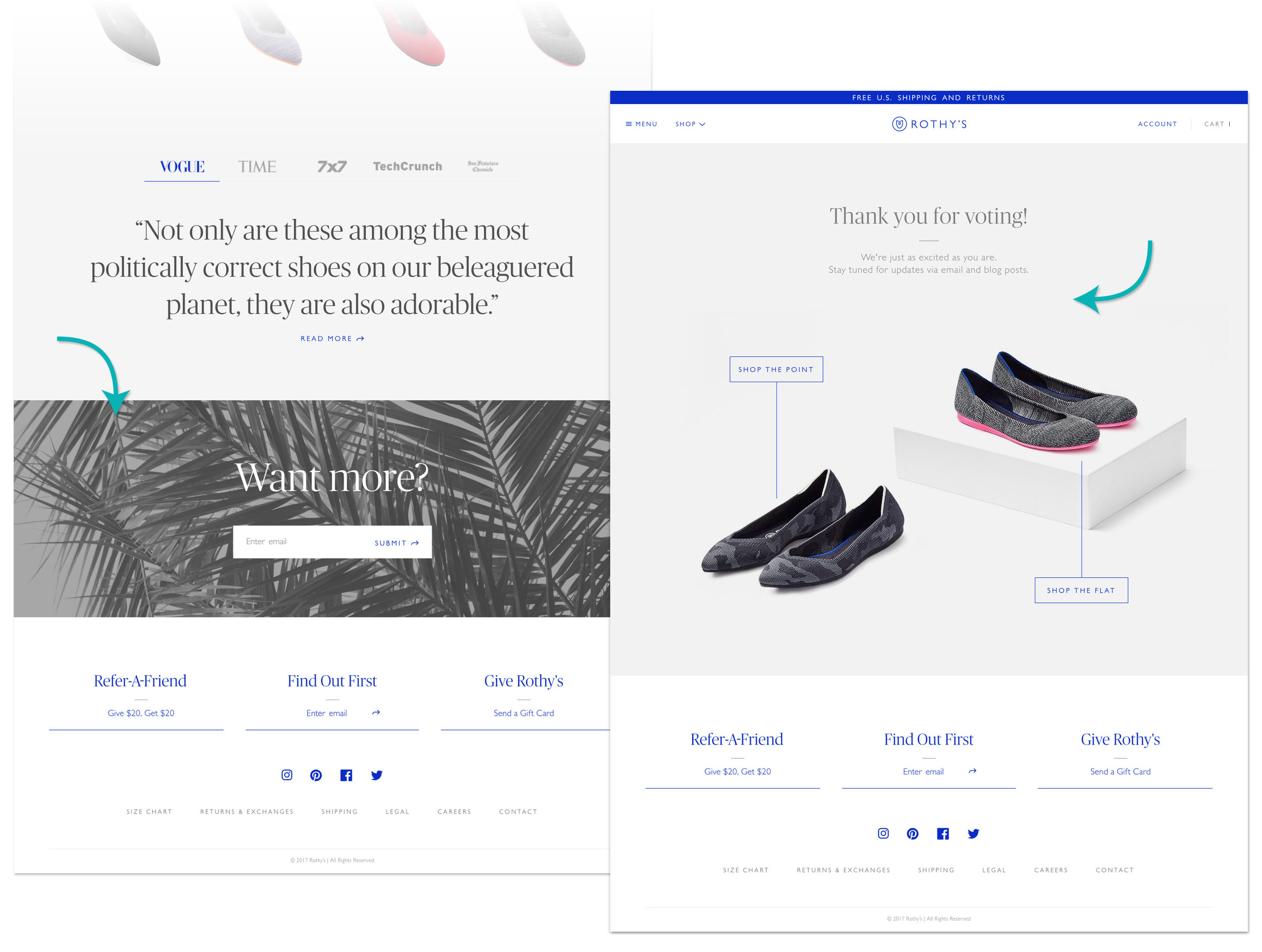 Existing designs served as templates, and the code was already done...
I plotted out how to tell a compelling story as the customer scrolled down the page, and I searched for license-free photography to help the page come to life. I designed for the largest and smallest website breakpoints, knowing that some of the modules had already been coded responsively, and I could work with engineers to finesse the details of anything that looked incorrect. My goal for the page was to build a hierarchy of engagement—starting with the campaign offer; offering a quick link to shop for those who didn't need more information; explaining who the partner is, what they do, and why it matters to the real people that work there; offering ways to get involved, leading with taking action with the partner rather than links for shopping; and ending with the lightweight action of sharing the page with friends, which is an easy way to get involved simply by spreading the word.
The landing page detailed the story of the campaign, and served as a template for future projects...
Once this site work was done and handed off to engineering, the marketing and social media designers pulled from my files to create a story that was cohesive, and supplemental to the elements on the site. Online influencers were commissioned to create supplemental content as well as spread the word with their communities. Customers wrote us sharing their personal stories, and a few touching ones were shared with our followers on social media. The communications with the customers continued with a final recap of how much money was donated, and a thank you to the people who participated.
The campaign was promoted off-site in email and on multiple social media channels, utilizing the same assets used on the website, supplemented with Influencer content.
Case Study: Campaign Assets Across Channels at ModCloth
My Role: Design Direction
Marketing Designer: Samantha Mansfield
Photographer: Danielle Bouchette
Photo Retoucher: Erin Corbett
ModCloth ran image-heavy campaigns monthly due to the high turnover of inventory. The website marketing placements were updated with new graphics and styles to highlight newness and generate emotional excitement from the highly engaged customer base. The start of a new campaign would also include promotion across email, social media, and online ads. I also had the team re-skin our social media channels to generate the same buzz and delight, and to carry our tone of voice everywhere the brand showed up.
This is an example of Homepage hero graphics which changed weekly, and the representation that lasted the full month on Twitter. Note that this required clever design to support the design restraints on Twitter. This campaign gained ModCloth recognition as one of the top brand pages on Twitter.
Series of campaign Homepage hero graphics…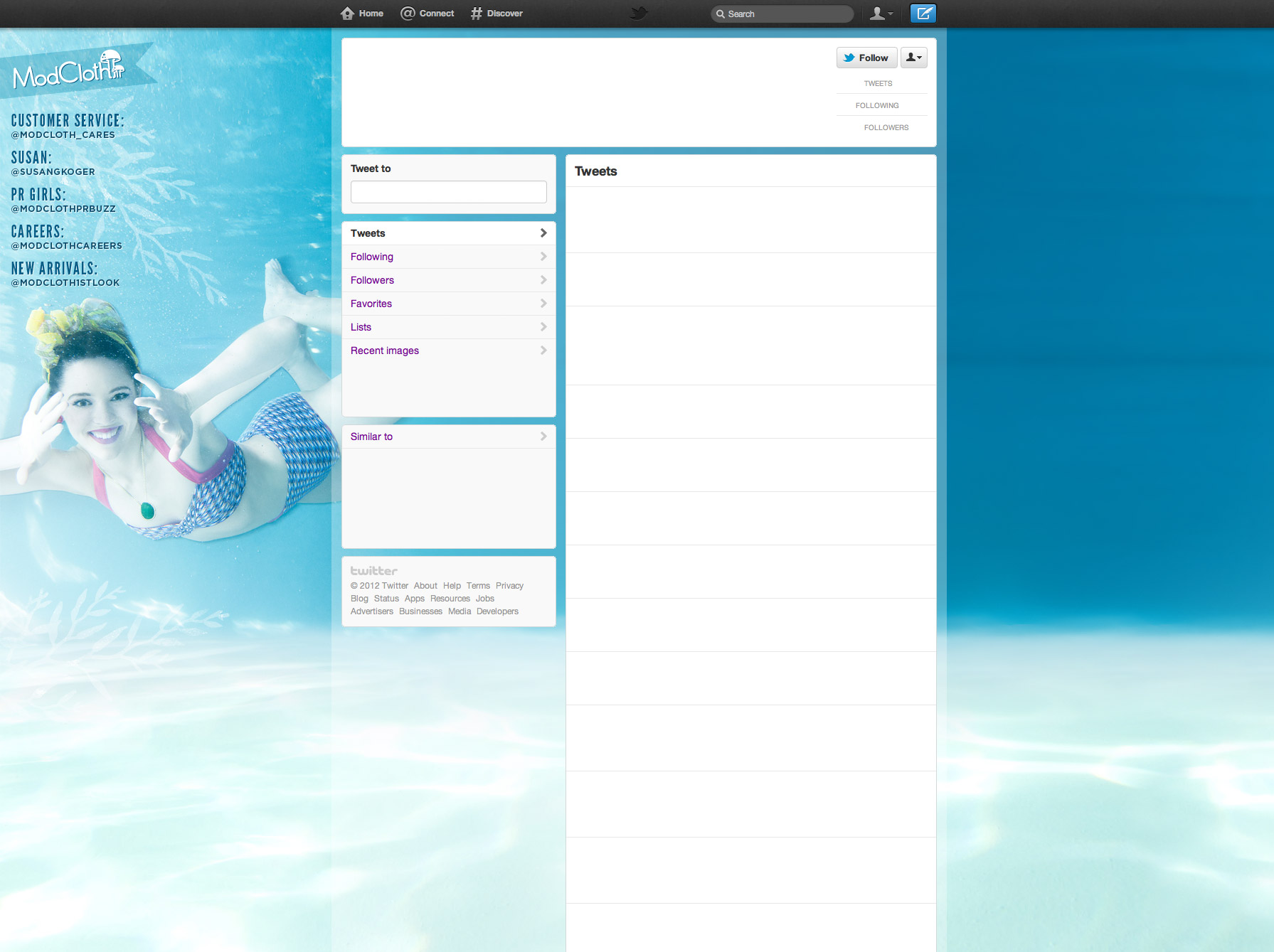 Campaign image for the ModCloth Twitter background.