The Evolving Stylguide
The good:
In order to remain consistent in how a brand appears, especially when working in a team, styleguides are essential. This gives structure for the team to follow and ensures that the visual aesthetics of each designer or photographer are minimized (the work represents the brand, not the individual).
The bad:
When working at startups, or when the styleguide is new, it's hard to define a style without seeing it in use. What you think looks great may not translate well when you try and use it. The ideal way to create a useable styleguide would be to create a suite of dummy assets or templates to make sure styles are working, however, this would take a lot of time and therefore cost a lot of money. The reality is that even though a styleguide is needed, budgets need to considered and daily projects still need to get out the door.
The ugly:
Technology changes really, really quickly and you never know what's coming next. A style that has been successful for a website or email may not translate well to something new (like an Apple Watch). In addition, design and fashion trends evolve, and what once was cutting-edge may now seem out of date. In order to give customers have that "surprise and delight" emotional reaction we all strive for, we need to make sure they don't get bored by with what they see.
The solution:
Identify what has been working best in previous projects, and build upon it. Revise and refine with each new project. Select some core elements that are clean enough to last a long time, and add in a few styles or colors that can change seasonally. View the work on different devices, adjust the font sizes and colors for legibility and adjust the spacing for finger-friendly touch targets. Review metrics to see what performs best, and figure out if there's a way to recreate that with the next project. Use existing web pages or email designs as a starting point, and tweak them to fit the current need. Leverage clever copy or beautiful photography to keep the designs feeling fresh. Document the successful elements, and soon you'll have plenty of templates and styles to reuse without having to invest a lot of time or money.
Case Study: Revamping Styles to Be Mobile-Friendly at Rothy's
My Role: Direction, Designer
Marketing Designer: Ashlee Rice
When I started at Rothy's, a recent brand guide was created which was beautiful and very thorough, detailing font sizes, leading, tracking and spacing, and it had many examples of visual stylings for marketing content. When I took a deeper dive into the work, I realized that the guidelines weren't defined for the website, and the font sizes listed did not translate across devices.
One of the things I first noticed about the workload was the high volume of emails the company creates. And unfortunately, I saw that they were really hard to read on a phone. A quick solution to keep projects moving without adding too much of a learning curve from what was currently instinctual, was to reduce the width of the email and adjust the font sizes in a way that was legible without ruining the integrity of the styles from the brand guidelines.
I worked with the Jr. Designer (who had been designing for the company for a year), to experiment with designs created on a computer, and visually checked on a phone. We used upcoming marketing emails to test the designs, which made the turnaround time quick, and resulted in useable content rather than placeholder templates.
Case Study: Editorial Marketing Styles Based Upon the Product Design at Luvocracy
My Role: Direction, Designer
I joined Luvocracy to support the Holiday marketing needs. They had just undergone a product redesign, and had no up-to-date marketing materials. I did what I could to bust out content (the first deadline was a print ad due literally the day after I started). They wanted to reach a blogger-loving demographic, and telling stories with an editorial slant. I referenced their app design, using their font and referencing their color palette, and added some holiday flair with supplemental fonts and colors.
The Luvocracy product styles were beautiful. However, I needed to add some elements in order to translate them into an editorial look & feel to support the marketing strategy.
I first developed Holiday styles. One look for product marketing, another for editorial storytelling...
After the Holiday season, I chose an evergreen editorial font that could be used for all assets going forward...
I carried these styles across social media graphics…
The editorial marketing placements stood out when used in the product.
Case Study: Seasonal Styles at ModCloth
My Role: Design Direction
Design Team: Samantha Mansfield, Ryan Keightley, Danielly Aldana, Eryn Hesler, Aya Akazawa
My time as Design Manager at ModCloth is when I first tried creating an evolving styleguide. I identified the strongest evergreen elements coming out of our team of six very different designers, and encouraged each designer to add personality to differentiate the many campaigns running in tandem (each campaign told a different story, and the design should reflect this). Each campaign could add a unique font, or use a unique color, but the graphics appearing on the site at the same time needed to look harmonious.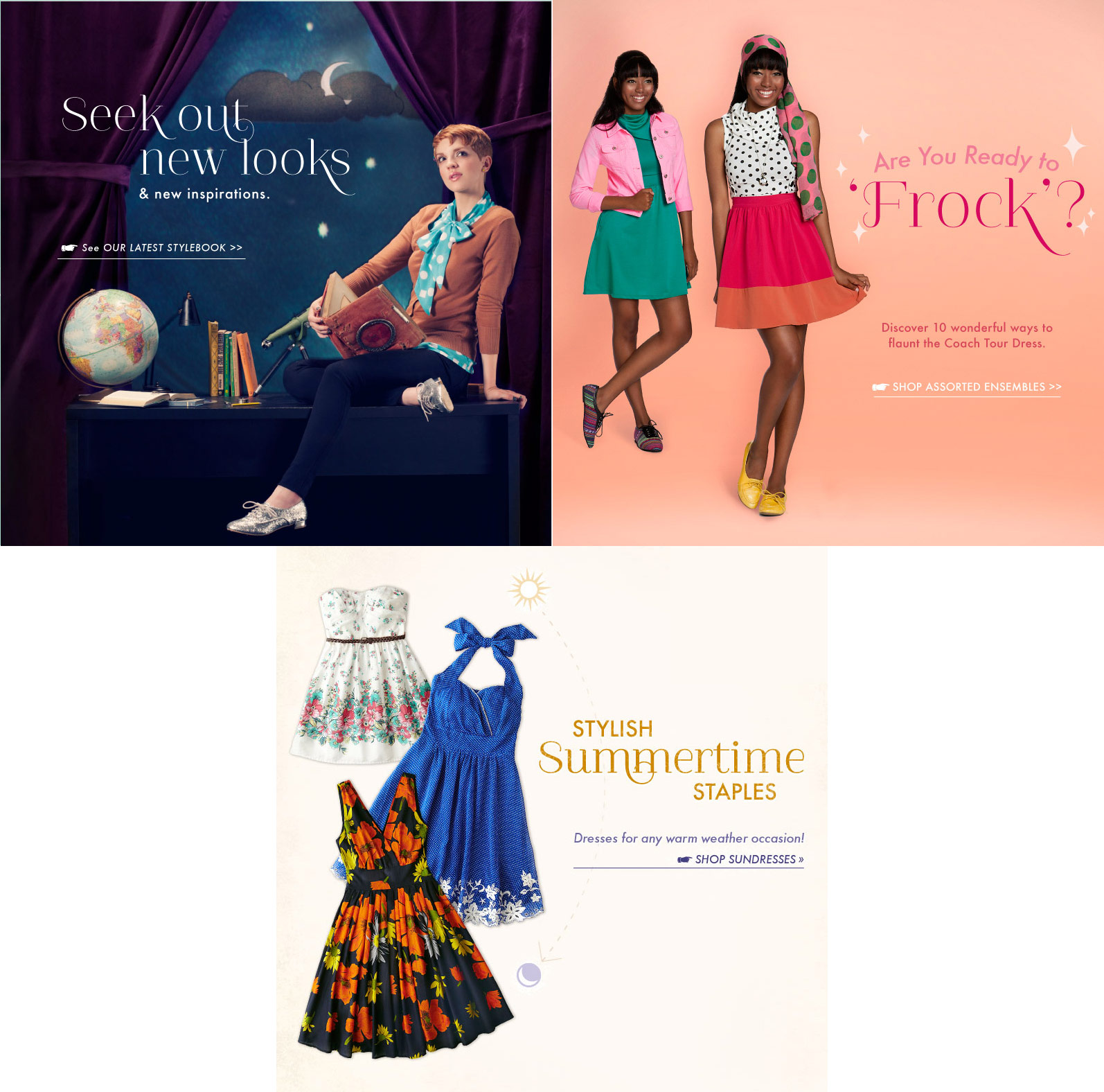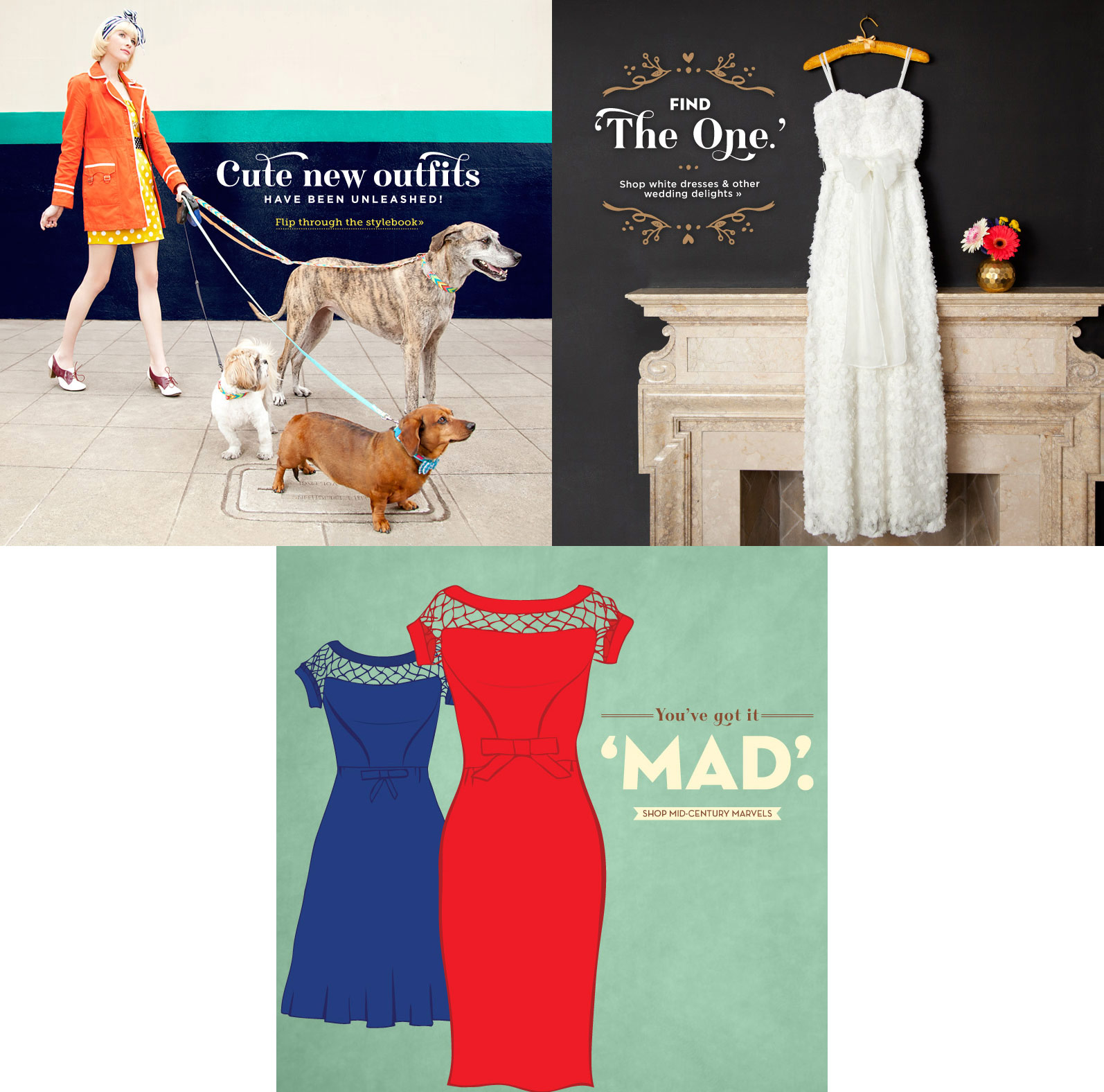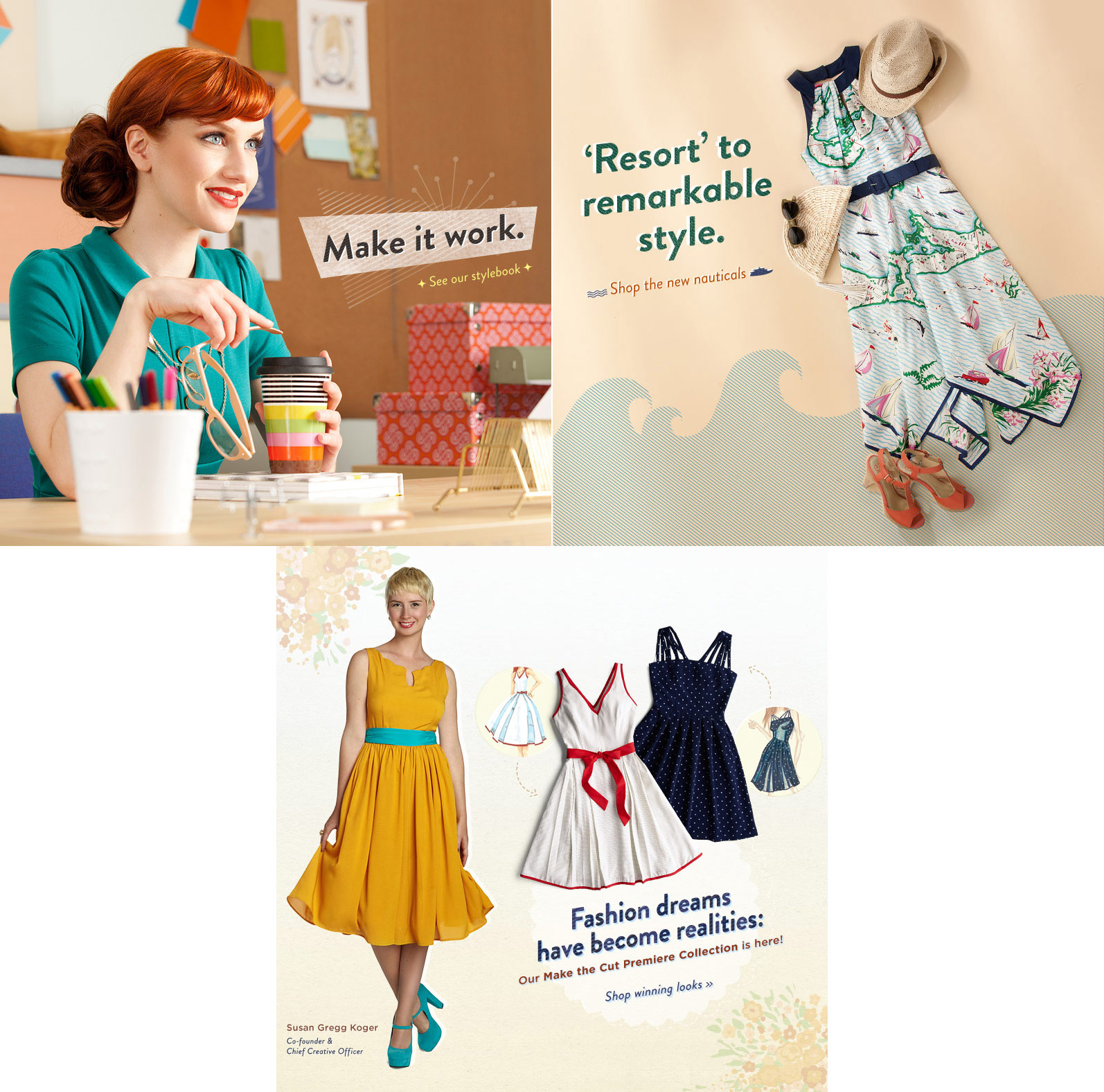 Case Study: Building Upon a Style at ModCloth
My Role: Design Direction
Design Team: Samantha Mansfield, Ryan Keightley, Danielly Aldana, Eryn Hesler, Aya Akazawa
As Design Manager, I wrangled a high volume of marketing requests coming in from many different team members. I noticed that the team was creating more program-level initiatives relating to product development, and I wanted to define styles that made the look and feel of these materials different from the rest of the fast-fashion campaigns that were running weekly.
It started with a solid one-off Welcome email design…
Became a style for product feature- or account-related emails…
Developed into the styling for a new Community program…
And continued in the designs for all product features going forward.